The Fur Fighters Site was the  official site for all Fur Fighters related news. It has been defunct since 13th January 2005.
Furballs.com
Edit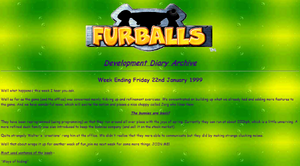 The very first website for Fur Fighters existed back when the game was known as
Furballs
. It was opened in 1999, though information pre dates back to 1998, back when it was given the codename
Drive-By
. The site was very basic, and the majority of information was found through a developer diary. On 24th September, the site was reopened with additional information on the cast, and people were allowed to send their favorite character an email.
The site was last updated on 5th November 1999, and included concept art, screenshots and photographs from the ECTS 1999. The site moved to FurFighters.com, though Furballs.com remained online for a few more months before expiring.
FurFighters.com
Edit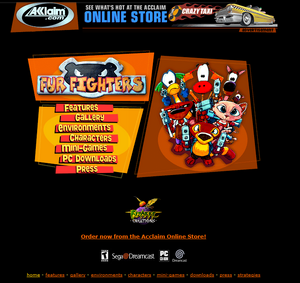 In June 2000, the new site for Fur Fighters was released. This site was run by the publisher,
Acclaim
, and featured a plethora of information for the new game. There was a Flash version of the site and a non-Flash version of the site, for those who did not want to download the plug in.
In its initial release, the site featured screenshots, Hubworld information, Fur Fighter bios, movies (the majority of which had a high and low quality setting for those on dial-up) and updates from Acclaim. It later updated to feature a PC Demo, four different Flash Mini Games and press information. It was also possible to buy the game and the Fur Fighters Strategy Guide directly from Acclaim themselves.
FurFighters.com - Viggo's Revenge
Edit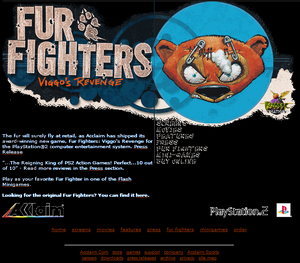 The site was updated one final time in 2001, for the release of
Fur Fighters: Viggo's Revenge
.
All content was updated to the PlayStation 2 version of the game, though a link to the original site was left up. The majority of overall content remained the same, just using screenshots and other media from Viggo's Revenge.
Once moved to FurFighters.com, Tweek's name was misspelled on almost every article. His name was only changed when the site was upgraded to Viggo's Revenge.
The website had mention of earlier versions of the game.
Community content is available under
CC-BY-SA
unless otherwise noted.