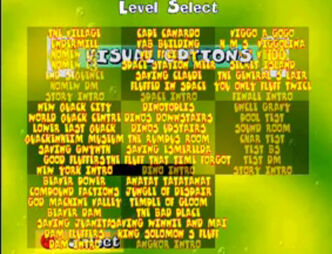 The
Level Select
is a
cheat
which can be found in both
Fur Fighters
and
Fur Fighters: Viggo's Revenge
. Both level selects must be accessed using a cheat device.
Once activated, pressing a certain button on the main menu will bring up a level select. This screen gives you access to all Cutscenes, and levels, including Hubworlds, Flea levels and even Test Levels.
Some levels are grayed out. Most of the time, this means you cannot access them, though some, such as Pool Test, can still be accessed this way.
In the Dreamcast version, the spelling error of Dinotopolis is still present.
This is the only way to view the Flea Level's true names.
Trying to access invalid Test levels results in a bombardment of error messages.
Community content is available under
CC-BY-SA
unless otherwise noted.