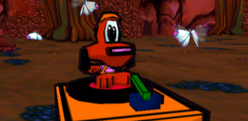 The
Soundtrack
to
Fur Fighters
was never released, however, fans have managed to capture each song themselves and have released the OST for all to enjoy.
Each hubworld has a set song. In each of these hubworlds, the core rhythm of the song will remain the same, but a unique jingle above the core will play. This jingle depends on what Fur Fighter you are currently playing as. For example, if playing as Chang in Dinotopolis, an additional asian-styled tune will play over the original Dinotopolis tune. This will last through each of the levels, except for the boss.
In some instances, however, only one song is played for all the Fur Fighters'. Boss themes, Fur Fighter Village,Viggo A Gogo, Undermill and The Bad Place do not change their theme regardless of who you play as.
In all but Fur Fighters: Viggo's Revenge, each boss features a set song, save for the finale.
Song list
Edit
1. Fur Fighters Main Theme
2. Bubbly (Main Menu)
5. New Quack City

6. New Quack City (Roofus)
7. New Quack City (Juliette)
8. New Quack City (Bungalow)
9. New Quack City (Chang)
10. New Quack City (Rico)
11. New Quack City (Tweek)

12. Beaver Power

13. Beaver Power (Roofus)
14. Beaver Power (Juliette)
15. Beaver Power (Bungalow)
16. Beaver Power (Chang)
17. Beaver Power (Rico)
18. Beaver Power (Tweek)

19. Cape Canardo

20. Cape Canardo (Roofus)
21. Cape Canardo (Juliette)
22. Cape Canardo (Bungalow)
23. Cape Canardo (Chang)
24. Cape Canardo (Rico)
25. Cape Canardo (Tweek)

26. Dinotopolis

27. Dinotopolis (Roofus)
28. Dinotopolis (Juliette)
29. Dinotopolis (Bungalow)
30. Dinotopolis (Chang)
31. Dinotopolis (Rico)
32. Dinotopolis (Tweek)

33. Anatat Tatanatat

34. Anatat Tatanatat (Roofus)
35. Anatat Tatanatat (Juliette)
36. Anatat Tatanatat (Bungalow)
37. Anatat Tatanatat (Chang)
38. Anatat Tatanatat (Rico)
39. Anatat Tatanatat (Tweek)
40. The Bad Place

41. Viggo A Gogo
42. Boss Theme
43. Credits
Bonus Tracks
Edit
Tweek's song in Anatat Tatanatat is considerably different from the other Fur Fighters' tunes.
Most of the songs are remixes of the Fur Fighters Main Theme.
Community content is available under
CC-BY-SA
unless otherwise noted.