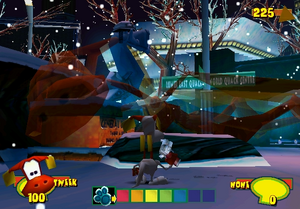 Yo, this is RadSpyro, the same RadSpyro that has a DeviantArt with sprite animations, vectors and general art with hideous anatomy. Also the same RadSpyro on Youtube that occasionally uploads Spyro and Fur Fighter vids.
I'm also a huge fan of Fur Fighters, an insanely huge fan, in fact. Besides owning Total Fur Fighters - the very first Fur Fighter fansite to ever go online and a working prototype of the game, I'm also, with the help of some other talented individuals, working on a fanmade version of the infamous Fur Fighters II. Feel free to stop by and help us if you're feeling up to it!
In particular, I love looking for game mysteries and, if I can, solving them. Total Fur Fighters lists many things previously undocumented online to the best of my knowledge, so check it out.
If you're ever stuck on any part of the game, feel free to contact me, I'll gladly help you out.
-Fur Fighter Master (aka RadSpyro)
To-Do List (in no order)
Edit
Clean up certain articles
Add images for both Fur Fighters and Viggo's Revenge on everything (babies, levels, items, etc.)
Update most articles with better screenshots
Fave Stuff
Edit
Community content is available under
CC-BY-SA
unless otherwise noted.